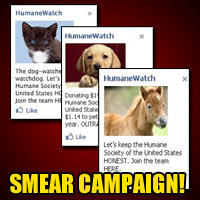 Have you been duped into clicking "Like" on HumaneWatch's Facebook group?
HumaneWatch regularly purchases Facebook ads featuring cute puppies and kittens in an attempt to deceive animal lovers and inflate their Facebook membership.
Most people don't explore the group after clicking the "Like" button. If they did, they'd find that HumaneWatch is not what they claim to be.
HumaneWatch claims to support shelters through its publicity stunt, "Shelter Supply Day". It encourages members to purchase supplies and donate them to shelters, along with a sheet of propaganda singing the praises of HumaneWatch. By their own admission, few do.
HumaneWatch is an industry-funded attack on animal protection organizations. It aggressively defends the cruelty of mass commercial breeders and puppy mills, factory farms, furriers, seal hunts, and horse slaughter while attacking legitimate charities.
"Shelter Supply Saturday" is really "HumaneWatch Whitewash Weekend". Don't be fooled! Shelters deserve our support all year round, not just as a publicity stunt designed to defend cruelty.
HumaneWatch is exploiting shelters to conceal its industry-funded, anti-animal agenda. HumaneWatch does not support shelters, and their members express their contempt for shelter professionals loudly and often:
You do realize that there is no real pet overpopulation, right? We have a mismanaged shelter system that imports animals from overseas to fill some shelters, rather than ship animals from one part of the country to another--among other problems.
-- Kim Egan, HumaneWatch Facebook group, July 17, 2010
There is no over-population problem in the U.S. That is nothing more than Animal Rights Kool-aid.
-- Katie Dokken, convicted animal abuser, HumaneWatch Facebook group, Aug. 6, 2010
NO ONE has the right to tell someone how they can live or conduct their business. Everytime a law is passed, someones constitutional rights are being chipped away. Sorry, but my rights are MUCH more important than that of dogs.
-- Colleen Michaels, HumaneWatch Facebook group, Nov. 11, 2010
Perhaps if there weren't a quarter million puppies being imported from other countries there'd be far more homes for the mutts in AL and beyond. It's not purebreds - it's unspayed/unneutered not penned up for 2 weeks a couple times a year because it's inconvenient mutt owners producing far more than purebred breeders.
-- Jan Hoadley, HumaneWatch Facebook group, Nov. 28, 2010
Oh, but the shelter workers won't blame the BS law; they'll blame the big, bad breeders for having so many dogs and having to unload them or be shut down. They'll make up stories of "rescuing" these poor dogs from near death in horrible conditions and slap excessive "adoption" fees on them, all the while looking for reasons NOT to "adopt" to the vast majority of wonderful potential owners. Then they'll claim there aren't enough homes out there for dogs.
-- Cathy Merchant, HumaneWatch Facebook group, Nov. 3, 2010
There is a large national rescue... here in CO looking for space.... They already go to the auctions down there and bring back dogs... Every dog that comes in will have some bad luck story about how they rescued it from a fate worse than death. People will be screened and rejected--it's a Dog!!!
-- Cindy DeBerge, HumaneWatch Facebook group, Nov. 3, 2010
Stop patronizing the shelters and rescues; get your next pet from a good, conscientious breeder and be certain that that is at least one pet who will never suffer a shelter experience. That's the only way to get the shelters out of the 'pet shop' business...
-- Lynn Turriff, HumaneWatch Facebook group, July 14, 2011
These are just a few samples of HumaneWatchers "concern" about shelters. And they expect shelters to help them attack animal protection laws and charities, the institutions that attack the root causes of neglect and abandonment, even while HumaneWatch defends those abuses?
HumaneWatch and its parent company, the equally deceptive Center for Consumer Freedom, collects millions of dollars in corporate "donations" every year. 92% of the funds the "nonprofit" CCF collected were funneled directly into the pockets of its creator, Richard Berman.
And what did it contribute to America's overburdened shelters? A propaganda-laden greeting card you can print out and send to shelters. With your own paper and ink, of course.
HumaneWatch is currently targeting the Humane Society of the United States. It criticizes the HSUS for not contributing to shelters, despite the HSUS goal of confronting the root causes of the problems that overwhelm shelters, like the puppy mills, hoarders, and irresponsible breeders who rally behind HumaneWatch.
The HSUS also supports shelters with advocacy and training resources like AnimalSheltering.org, Shelter Appreciation Week, Spay Day events, the Shelter Pet Project and more.
And, despite the fact that it is not a grant-making or funding organization, HSUS donates millions in support of local shelters and rescues. (Source: 2009 HSUS Form 990, Schedule I and Schedule I-1, Pages 38-74)
If you agree that attacking charities for pay is disgusting, that a "nonprofit" that funnels 92% of its "donations" into the pockets of one man is deceptive, and that animal cruelty for profit is never acceptable, we invite you to join us in our efforts to expose this smear campaign against animal protection groups. Here's how you can help.
Warn your friends! Click on the HumaneWatch Facebook group and look for a section that says "# Friends Like This". If your friends are there, make sure they know what they've joined.
Spread the word. Our Understanding HumaneWatch handout gives a basic introduction to HumaneWatch in just one sheet of paper. Please post it to your Facebook status, distribute it at community events, or link to it in your emails and blog comments.

Understanding HumaneWatch:
http://www.humanewatch.info/Documents/UnderstandingHumaneWatch.pdf

Join the Stop HumaneWatch Facebook group for breaking news and events about HumaneWatch actions.
HumaneWatch depends on ignorance and fear to spread its hateful message. By exposing their anti-animal agenda, you can help defeat their corporate-funded attack on animal protection.